I read a lot, and often marvel at the effort that goes into writing them, and I think I get part of that appreciation from watching my friend Bob write his first novel, Say Goodbye. He's worked hard at it, growing it, changing it, polishing it, and sweating over the question that I suspect every author asks eventually – is it done? I think the answer from most authors is "no", it's never done, but at some point they see it's taken on a life of it's own, and it's time to see if the rest of the world sees value in all the effort.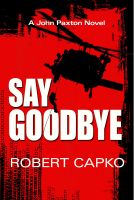 So, what about the novel? It's an action story, about a guy named John Paxton who works in Air Force para-rescue, and ends up on a strange mission to rescue the pilot of a stealth fighter. It's got some twists and turns, and what makes the book interesting (besides knowing the author) is that you'll find two interesting characters. I've read it a couple times, and I'll be reading it again over the holidays, curious to see the final cut that made it to print (e-print).
And the author? Bob & I go back to middle school, he's served some time in the Air Force, has kids, teaches school, and of course writes. Maybe more than anything else, he's a writer. He's also a good guy.
It's $5.99 for a variety of e-formats from Smashwords. I'm hoping you'll buy a copy and see what you think, encourage a new author to go back and write the sequel and the prequel and maybe a few more. Maybe give away a copy or two for xmas gifts too!